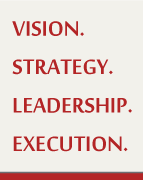 The RavenOye Group is a specialty strategic advisory practice dedicated to medical device and investment company businesses. We originate and facilitate strategic and collaborative transactions; guide product-related activities such as market development, entry and expansion; and provide organizational development and evaluation.
The firm's principals, a group of 30-year industry veterans with operational and executive experience in start-ups, Fortune 500 marquee names, Wall Street, leading service providers, and government service, have successfully facilitated commercialization of over 300 medical devices and facilitated dozens of corporate transactions. Clients have included most of the major medical product corporations in the United States, Europe, and Asia.
ROG principals maintain an extensive network of proven industry executives across the world and as such are quickly able to identify qualified transaction counter-parties to suit your needs, and expedite key introductions to ensure your success.